Are you suffering from frequent periodontal diseases?
Do you have crowded, crooked, or uneven teeth?
Does your misaligned teeth affect your self-esteem?
If yes, you need the best orthodontic treatment in Kodambakkam, Chennai, to address the above problems.
Well, K Smile Dental Care, best dental clinic in Kodambakkam, Chennai offers the most effective, reliable, and affordable orthodontic treatment in Kodambakkam, Chennai.
Read on to know about orthodontic treatment, their types, benefits, and more.
What is Orthodontic Treatment?
Orthodontics focuses explicitly on diagnosing, preventing, and correcting dentofacial irregularities such as crowded teeth, forwardly aligned teeth, irregularly positioned teeth, and jaws.
Why should you go for orthodontic treatment?
Most people indeed have crooked teeth or misaligned teeth. With braces treatment, you can quickly straighten your teeth and bring them to the correct position. This type of dental treatment can improve your appearance and confidence.
Best aligned teeth make it easier to clean. Remember that misalignment of teeth can also significantly affect the jaw muscles, leading to jaw problems. K Smile Dental Clinic's professional Dr. S. Bhuvaneswari, dentist in Kodambakkam, Chennai brace treatment can help you with this.
Types of Appliances
Fixed and Removable
Fixed appliances are worn for a more extended time and used for treating moderate to severe mal-alignment. Removable devices treat mild dental deformities, and patients can remove them.
Ceramic brackets
Ceramic brackets are clear or tooth-coloured. They are preferred by adult patients who want to minimize their braces' visibility.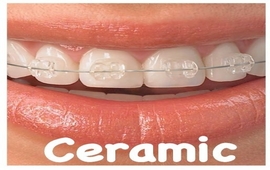 Functional appliances
Dentofacial (jaw) growth irregularities are often corrected using functional appliances. When the lower jaw growth does not match with upper jaw growth, cervical pull or high pull headgear reduces it. Reverse pull headgear, chin cups, and facemasks help when upper jaw growth does not match the lower jaw.
Arch expansion
Children with crowded teeth and narrow arches need palatal expanders. Your orthodontist will place the palatal expander device into the upper arch for expanding a narrow upper arch for six to eight months. Palatal expanders expand the upper arch and form a soft rounded "U" shape arch. It helps to make the smile attractive.
Lingual orthodontics
Lingual braces are placed behind the teeth. These are cosmetic alternatives for people who otherwise do not require treatment.
Orthognathic surgery
Orthognathic surgery treats improper bite problems and incorrectly positioned jaws. It can affect chewing function, speech, long-term oral health, and appearance. Injury to the jaw and congenital disabilities can also affect jaw alignment.
While orthodontics alone can correct "bite" problems if only the teeth are involved. You may require orthognathic surgery if jaws are involved or are not appropriately related.
Pre-Surgical Orthodontics
Pre-surgical orthodontics help move your teeth into a new position. So, they will fit correctly when the jaws are surgically repositioned. During this pre-surgical orthodontic treatment, you will be wearing braces, usually for 6-18 months. You will visit your orthodontist frequently for essential adjustments of your braces and evaluation. After surgery, final orthodontic tooth movement is generally required to "fine-tune" your bite.
What are the Benefits of Orthodontics?
Decrease the risk of decay as crooked teeth are difficult to clean.
Reduce the risk of developing TMJ problems.
Reduce the risk of injury as prominent teeth are more prone to trauma.
Cut the excessive wear on your teeth that can be caused by a poorly aligned bite.
Well-aligned teeth provide a healthier and attractive smile.
A beautiful smile boosts your confidence and self-esteem.
Why choose us?
Dr. S. Bhuvaneswari, the Chief Dentist of K Smile Dental Care, is among the best dentists in Chennai with more than nine years of experience.

Dr. S. Bhuvaneswari specializes in prosthodontics, which is replacing missing natural teeth and structures.

Besides, she has an enormous knowledge of implant dentistry, smile designing, complete dentures, zirconia crowns, etc.

Moreover, she is a certified Bio-facial Prosthetics System (BPS) Denture consultant and has completed a course on lasers in dentistry.

At K Smile Dental Care, we provide the best orthodontic treatment in Kodambakkam, Chennai, based on the patient's requirements.

Our dental experts are adept at executing complex implant surgeries.

Our clinic has the most advanced equipment that helps in minor to major dental procedures.
Please make an appointment at K Smile Dental Care, Chennai, to know more about orthodontic treatment and its cost based on your dental condition.
Frequently Asked Questions:
What's the best age to first visit an orthodontist?
Most expert dentist recommend that children have their first visit with an orthodontist around age 7. Every mouth is unique, and you might need to see your orthodontist earlier if you notice issues with your child's teeth or bite.
Is there any difference between an orthodontist and a dentist?
Orthodontists are dentists who have boarded on 2 to 3 years of post graduation to specialize in orthodontics. Your general dentist will help you keep up good oral hygiene, carry out fillings, etc. but will typically suggest you to an orthodontist for a more substantial procedure, like braces' fitting.
How long does orthodontic treatment take?
It usually depends on the type of treatment you need. Some people may need only six months of treatment. But it can generally take 1 to 2 years for most people.