Have you missed a tooth due to periodontal disease or injury?
Is your cracked tooth affecting your smile?
Do you want to restore your dental look? 
If yes, please visit K Smile Dental Care dental clinic in Kodambakkam, chennai; here, our chief dentist, Dr. S. Bhuvaneswari, provides the best dental implant treatment in Chennai.
Read on to learn more about dental implants, the process of dental implantation, its cost, and benefits.
What is a dental implant?
A dental implant is simply the most popular and ideal solution for replacing your missing or broken tooth with an artificial tooth. According to your dental condition and requirements, our dentist in Kodambakkam, Chennai will help you restore your cracked or lost tooth with dental implantation. Implants look and work the same as your natural teeth.
How much is the cost of full mouth dental implants?
The cost of a full mouth dental implant is worth it for the comfort, confidence, and natural feeling you will experience. You will enjoy both the aesthetic and medical benefits of dental implants. So, we can help you find the right dental implant option for you at an affordable cost.
Who is suitable for a dental implant?
Before undergoing dental implantation, ensure that you are the right candidate for dental implants.
Patients getting dental implants must be in good health, have adequate bones to hold the implants, and commit to proper oral hygiene.
The following factors determine your eligibility for the dental implantation:
Tooth decay severity
Mucous membrane condition
Support provided by jawbones
Bone size and structure and adjacent teeth
Diabetes level
Gum condition
Consumption of bone-building medications by a patient
Position of implant needed
How is dental implantation done?
Our Implantologist will work closely with you to develop a personalized treatment plan to restore your smile and dental health.
Our dentist will first examine your jaw, mouth, and teeth to check if you are the right candidate for an implant.
The X-ray provides our dentist with an idea of your oral health and indicates whether your dental implant will be successful.
Below are the steps of the dental implantation:
1. Incision
Under anaesthesia, our dentist will make a deep incision on your gum, just above the jawbone. Then withdraw this split tissue to see the bone. The incision position is crucial to allow suitable gum tissue to cover the implant.
2. Initial drilling
Our dentist will make a pilot hole and start the drilling again but at a lower speed drill. The process of drilling ends after achieving the expected drilling size for the implant. Here, the temperature is kept under control to avoid any damage to the nerve and cells.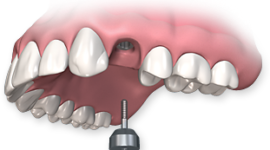 3. Placing Implant
Our dentist will screw the dental implant in the cavity with a pressure-sensitive wrench that is made to avoid the extensive tightening of a screw or creating stress on the adjacent bone and tissues.
4. Closing the cavity
After screwing the dental implant in the bone, the soft tissue is drawn back in a way that enables the implant tip to expose or cover by the tissue. Covering the implant entirely or allowing it to emerge from the surface is based on the prosthesis type preferred for installation.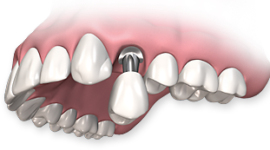 Though the dental implant is not a major surgery but giving enough time for the implant is necessary that decides its success. However, bone growth is low but essential for the success of preventing the mobility of the implant.
Our dentist, with their highly devoted team, will provide complete success in this procedure. Therefore, they make every possible effort to ensure that you get positive results with the dental implant.
Types of Dental Implant Restoration:
1. Single Tooth Replacement
2. Multiple Tooth Replacement
3. Full Tooth Replacement
What are the benefits of dental implants?
Dental implants help replace the missing tooth permanently and give your teeth a natural look.
Dental implants enhance the face's shape and contour, which can go wrong due to missing teeth making the facial tissues droop.
Implants don't harm the surrounding teeth and protect the healthy bone.
Implants ensure excellent appearance and ease with no speech problem.
Implants boost your confidence for being an ideal solution to your lost tooth.
Implants provide the liberty to enjoy your favorite foods without any teeth sensation.
Why choose us?
Dr. S. Bhuvaneswari, the Chief Dentist of K Smile Dental Care, is an expert dentist in Chennai with 9+ years of experience.
Dr. S. Bhuvaneswari has expertise in the field of prosthodontics. It deals with the replacement of missing natural teeth and structures.
Moreover, she has a vast knowledge of implant dentistry, smile designing, complete dentures, zirconia crowns, etc.
Besides, she is also a certified BPS (bio-facial prosthetics system) Denture consultant and has done a certification course on lasers in dentistry.
At K Smile Dental Care, we offer a wide range of dental implants based on individual requirements.
Our dental experts are adept at performing complex dental implant surgeries.
Our clinic has the latest dental equipment that assists in all types of minor to major dental procedures.
Please make an appointment at K Smile Dental Care, Chennai, to find out about dental implant treatment and its cost based on your dental condition.
Frequently Asked Questions:
Is dental implant painful?
You may feel slight discomfort or no pain at all. Part of the implantation includes administering local anaesthesia, so the patient does not experience any pain.
Are dental implants removable?
No, dental implants are set solidly in the bone and allow teeth to replace in a way closest to natural teeth.
How long does a dental implant last?
Dental implants can last a lifetime, indicating you only have to get dental implantation once and avail of it for the rest of your life.